I've made literally thousands of appetizers, small bites and desserts using these very convenient, light and flaky cups.  You could just about put anything in these and call it a day, ha, ha…seriously though, these mini Mexican inspired tarts have big flavor.  It's hard for me to make "small" batch recipes so don't be thrown off with these recipe for 45 tartlets, they are small and one could easily eat 3 to 4 no problem…I've seen it happen many times.  I actually saw a guest wrap up a half a dozen in a napkin and put it in her purse towards the end of a party once, in a Chanel clutch no less…true story.  I would have wrapped them up in a box for her, it's not like she was steeling or something. …I guess the "flavor value" was so top notch that she thought she was steeling them.
Sauteing the ingredients first to infuse the flavors just right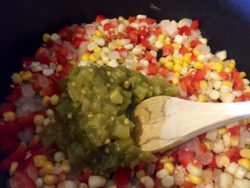 filling these little beauties so I can get them in the oven!
out of the oven and soon in my stomach!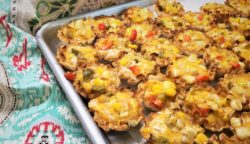 Ingredients
1 teaspoon olive oil
½ cup of chopped onions
1 teaspoon chopped garlic
½ red bell pepper, minced
¼ teaspoon kosher salt
¼ teaspoon coarse ground black pepper
1 4 oz. can green chilies, drained…you can use mild but I love the Hot
8 ounces cream cheese, softened
1 egg
1 teaspoon chili powder
1 cup shredded sharp cheddar cheese
1 cup corn fresh or frozen corn, I used frozen corn that was half yellow & half white
3 packages of phyllo cups (15 in each package), recipe makes 45 mini tarts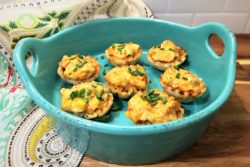 Directions
Heat the olive oil in a medium frying pan over medium heat and add the onions, garlic, bell pepper, salt, pepper and green chilies and sauté for 5 minutes, stir in the corn and cook for another 5 minutes and take off heat and set aside.
In a mixing bowl, mix together the cream cheese, egg, chili powder and cheddar cheese and blend well.
Add the corn mixture from the frying pan and mix well.
Place the phyllo cups on a parchment lined sheet pan and fill each one to the top with the filling.
Bake in the oven for 15 to 20 minutes or until golden brown and puffy.  Cool slightly and serve immediately.  Serves 10 to 12 as an appetizer
Ok…let me take a bite, oh yum! YUM