Even though it's only the September, I feel a chill in the air and fall is approaching fast.  I love fall, it's my favorite season for decorating and for foods that incorporate the best that autumn has to offer like squash, figs and late harvest sweet corn.  I love squash year round but I think butternut squash definitely tastes better in fall for some reason.  My vegetable garden is fading a bit but I'm still harvesting here and there and I still have tons of herbs, so I used my fresh thyme and sage in this recipe, so farm to table fresh it is, so to say. My recipe for this roasted butternut squash hummus is delicious and will become an autumnal favorite for your entertaining and your vegan party guests will love you for it…
This party dip will be quite an attraction on your autumnal tablescape at your next party!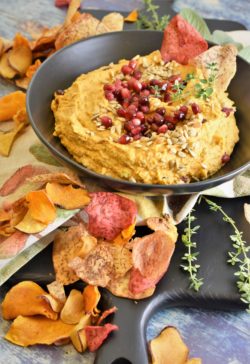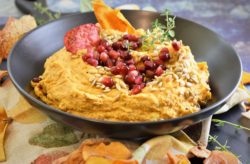 I guess I scooped a few too many seeds, I'm not complaining, the sunflower and pomegranate seeds gives this recipe a wonderful texture and flavor…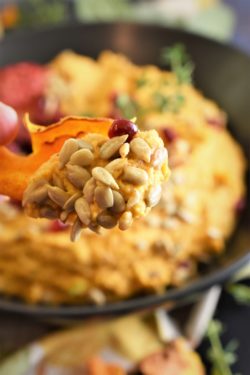 I love the vegetable chips with this hummus, the colors, texture and flavor work so well, YUM!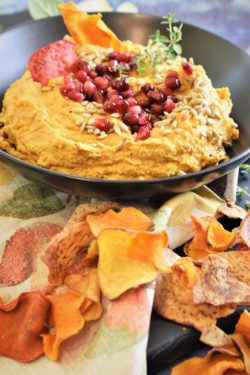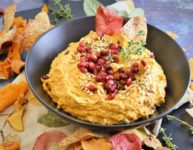 Herb Roasted Butternut Squash Hummus with Pomegranate & Sunflower Seeds
This creamy and flavorful dip is especially good during fall but still equally good year round, it has a hint of spice from the cayenne, but oh so good.
Ingredients
Roasted Butternut Squash
22

ounces

peeled & cubed butternut squash

2

tbsp

olive oil

1/4

tsp

kosher salt

1/4

tsp

course black pepper

1

tbsp

fresh chopped sage

2

tsp

fresh chopped thyme
Hummus
15

ounce

can garbanzo beans, rinsed & drained

1/3

cup

tahini

2

tsp

chopped garlic

1

tbsp

olive oil

1

lemon, juiced

1

tsp

chili powder

1/2

tsp

cayenne pepper

1/2

tsp

cumin

3/4

tsp

kosher salt

1/2

tsp

course black salt

1/2

cup

pomegranate seeds, divided

1/2

cup

sunflower seeds, divided
Instructions
Preheat oven to 400 degrees

On a sheet pan, toss the butternut squash, olive oil, salt pepper, sage and thyme together so the squash is well coated.

Place in oven for 15 minutes, stir and put back in the oven for another 15 minutes until dark golden brown, take out and set aside to cool.

While squash is roasting, in a work bowl of a food processor fitted with the metal blade, add the garbanzo beans, tahini, garlic, olive oil, lemon juice, chili powder, cayenne pepper, cumin, salt and pepper...let sit until squash is ready

Add the squash to the work bowl and process until creamy, stopping to scrape down the sides and pulse a few more times until it's all mixed through

Pour into a serving bowl and stir in ¼ cup pomegranate and ¼ cup sunflower seeds, chill for at least 2 hours

Sprinkle the remaining pomegranate and sunflower seeds on top and serve with vegetable chips, my favorite with this dip or you can serve it with pita or corn chips.

Makes 2 1/2 cups, serves 8