Making polenta of any kind brings back fond memories of when I used to be a waiter many, many years ago and I served it soft with sautéed veggies and cheese, so good and comforting.  I've made that same dish many times plus I've made polenta lasagna before and that's always good but this is a first for me to make polenta crispy.  My recipe combines all the party food you would need in a party in one dish, lol…beer, bacon and cheese. Baking it until crisp worked out great and minimizes some calories and time from deep frying it, the bacon & cheese flavor came out really well with just a hint background note from the beer.  The inside of these fries were tender with a crisp outer layer and dipping them into the chili aioli just brings out the comfort of this dish. So instead of making the usual French fries with ketchup, why not try something different for a change and make these polenta fries…they are so appropriate for any party and in any season of the year.
A sophisticated but comforting spin on a classic Italian dish…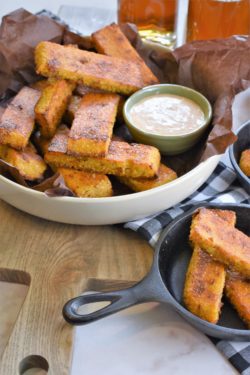 Dip, Dip Horray for this exciting dish, polenta doesn't have to be boring anymore!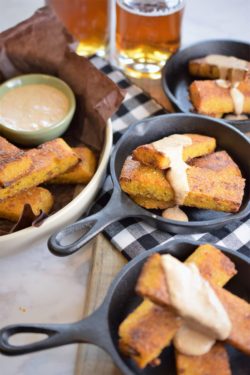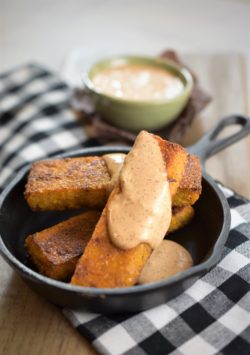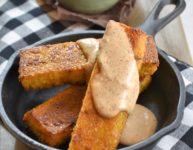 Baked Cheddar, Beer & Bacon Polenta Fries with Chili Aioli
Crispy but tender inside with bits of bacon & cheesy flavor with hints of beer, yes all in one dish! Great party dish that your guests will beg for more...
Ingredients
1 3/4

cups

water

2

cups

beer, light to medium

1 1/2

cups

polenta

1/2

tsp

dried thyme

1/2

tsp

cayenne pepper

1/4

tsp

black pepper

1/2

tsp

kosher salt

3/4

cup

cooked bacon, crumbled

1

cup

sharp white cheddar, grated

2

tbsp

canola oil or cooking spray for brushing
Chili Aioli
1/2

cup

mayonnaise

1/2

tsp

chopped garlic

3/4

tsp

chili powder

1/4

tsp

cayenne pepper

1/4

tsp

kosher salt
Instructions
With cooking spray, spray a ¼ sheet pan (12.25 X 8.125) generously and set aside or line with parchment paper overlapping the sides by 2 inches.

Whisk together the water, beer, polenta, thyme, cayenne pepper, black pepper and salt in a 4 quart saucepan until well combined (preferably nonstick), on high heat., bring to a bowl stirring occasionally until it just starts to bubble on the surface, now take the heat down to medium/high and continue to whisk frequently as to not let it clump.

After 5 minutes, stir in the bacon and the cheese and continue to cook for another 4 minutes, stirring occasionally… mixture will be very thick.

Pour into the prepared pan, work fast because the polenta starts to set fast, with a wet rubber spatula, smooth over the surface of the polenta so it is even across the surface, patting down when necessary, rapping the pan a couple of times on the counter to get rid of any air bubbles. Let cool on countertop for 10 minutes and set in the refrigerator, uncovered to cool for two hours or overnight.

While polenta is cooling, mix all the chili aioli ingredients together in a small bowl, cover and refrigerate

Preheat oven to 450

Turn the polenta out onto a cutting board and cut in half lengthwise and then into 1 inch wedges, you should have 20 wedges and place them on a silicone lined sheet pan or parchment lined sheet pan sprayed with cooking spray or drizzled with oil

Brush the top of the polenta wedges with oil or generously spray them with cooking spray

Bake, turning polenta fries once halfway through, until golden and crisp, 30 to 40 minutes

Drain on paper towel lined sheet pan

Transfer to serving platter and serve aioli on the side and enjoy. Serves 6 as an appetizer or side dish