What do I give my Valentine this year, you ask? Duh, dessert!! It's a no brainer and my recipe for this outstanding cherry cinnamon crème Brulee will rival any heart shaped boxes of chocolates…diamonds, well, not sure on that one! Ha, ha. Once your spoon cracks the surface of the caramelized sugary shell you will have a creamy, cherry treat with a hint of cinnamon and vanilla to wake up your senses and then you will realize how much you love your Valentine and your previous gift list in your head would have gone right out the window. Don't you know that the way to any man or woman's heart is really through the stomach!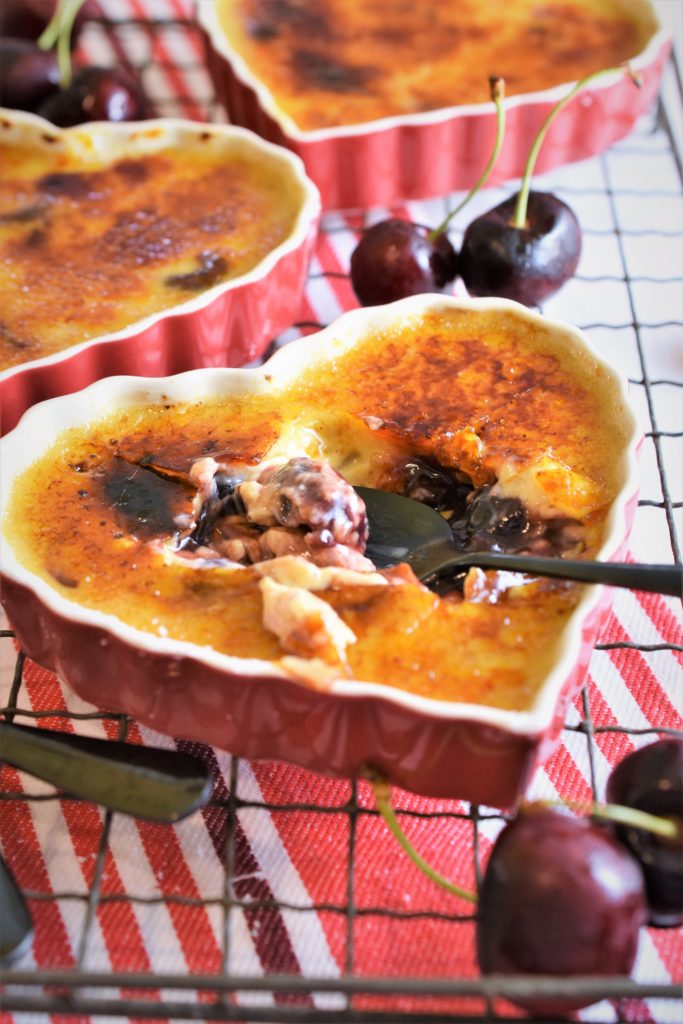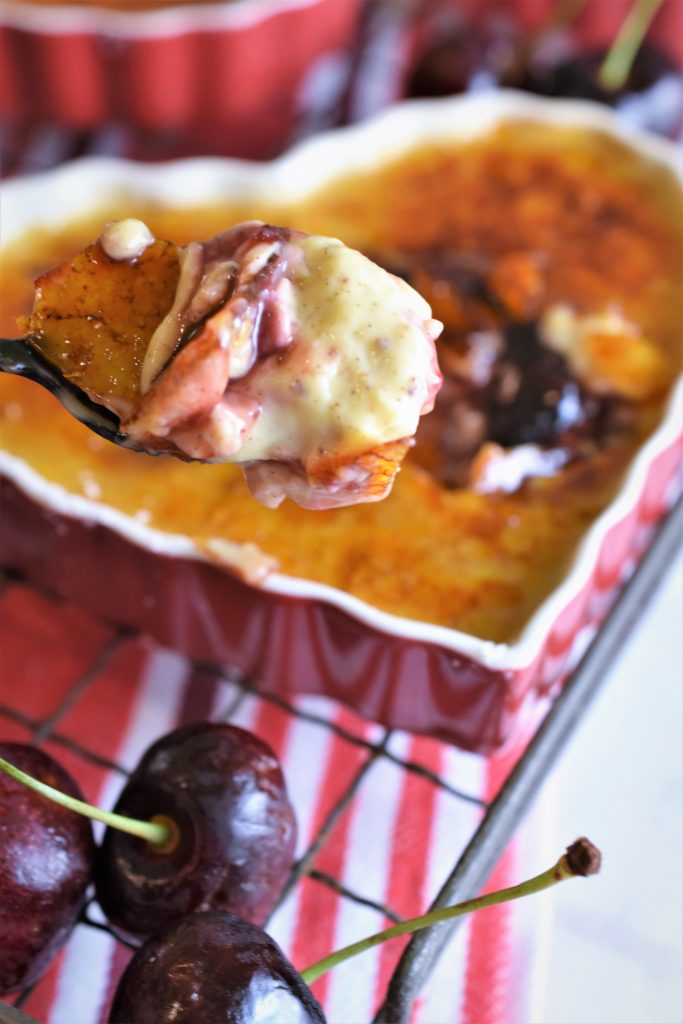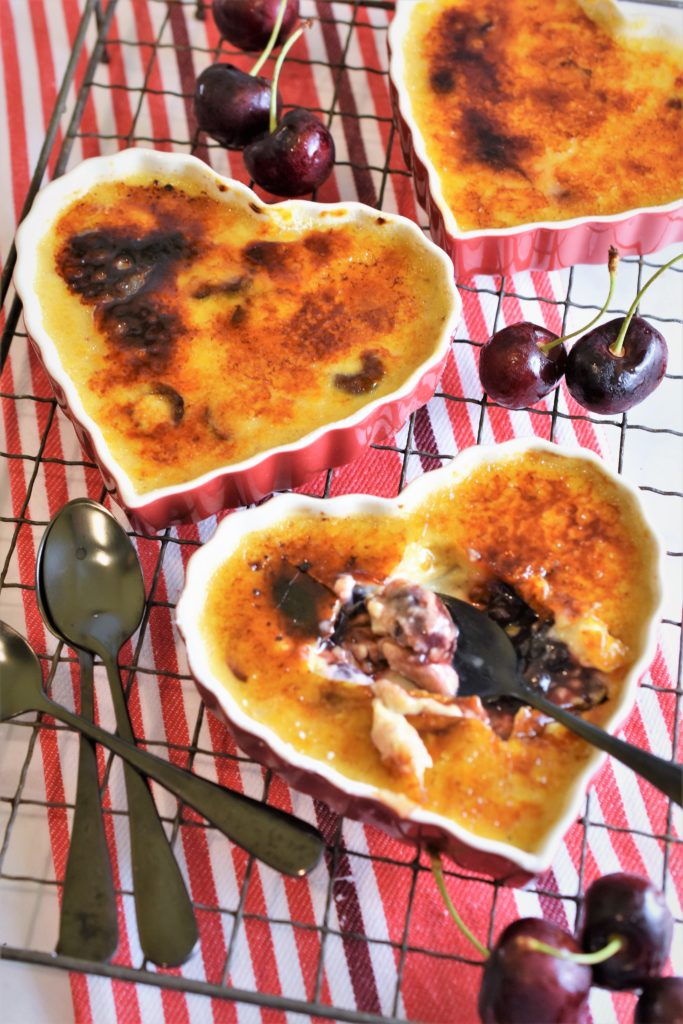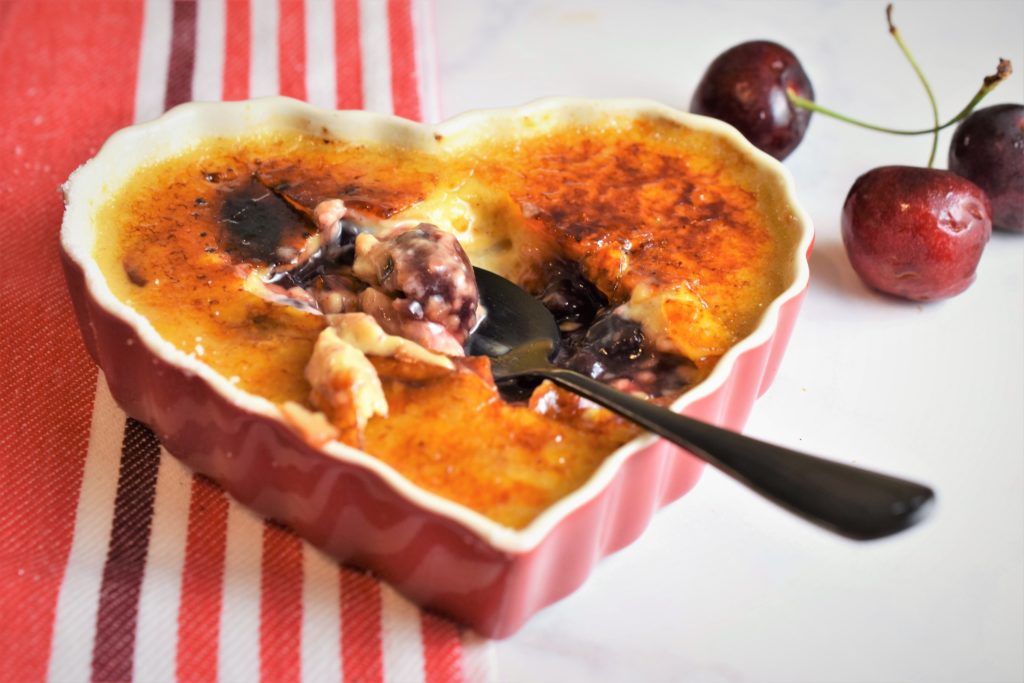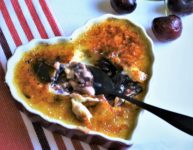 Cherry Cinnamon Crème Brulee
For a surprising twist on this classic creme brulee I combine sweet cherries & cherry jam with a touch of cinnamon…this luscious & creamy dessert will be your new classic recipe
Ingredients
16

fresh or frozen cherries, thawed and cut in half

6

tsp

cherry preserves

4

egg yolks

1

tsp

vanilla extract

1 1/4

cups

heavy cream

1/2

tsp

cinnamon

1/4

cup

sugar

8

tsp

sugar for caramelizing the top
Special Equipment
4

4 oz capacity ceramic ramekins

1

9X13 inch baking pan or casserole

creme brulee torch or you can use a broiler
Instructions
preheat oven to 300 degrees F

Place the 4 ramekins in a baking pan or casserole

Scatter 8 cherry halves in each of the ramekins

Drop 3 spoonful's of cherry jam by ½ teaspoonful's in three different areas of the ramekins

Whisk the egg yolks and vanilla together in a bowl, set aside

In a small saucepan over medium/high heat whisk the cream, cinnamon and sugar and bring to almost a boil, about 4 minutes, turn off.

Pour a ¼ cup of the hot cream mixture into the eggs to temper them while whisking and then pour all of the eggs into the hot cream, whisking until incorporated

Pour cream/egg mixture evenly over the cherries into all 4 ramekins

Pour boiling water into the baking pan until water comes up halfway up to the ramekins and cover loosely with foil.

Bake until set and just a bit jiggly, from 25 to 30 minutes

Let cool until able enough to handle, take the crème Brulee out of the water and let cool to room temperature and chill in the refrigerator for at least 3 hours or overnight.

Just before serving, sprinkle 2 teaspoons of sugar over each crème Brulee and with a crème Brulee torch or put under a broiler until the sugar caramelizes until you have a nice golden brown sugar glazed shell and serve.