Autumn is not over yet people and I know you are still craving something pumpkin, aren't you?  This recipe I came up with is perfect for gift giving, how about using a small treat bag of this on each place setting on your Thanksgiving table.  The flavors are all so good together, the crunchiness of the pumpkin seeds with the sweet cherries, pumpkin spices and chocolate…this may be the perfect candy, at least for fall anyway.
1 10 to 12 oz.  bag of pumpkin spice morsels
1 10 to 12 oz. bag of white chocolate chips
1 10 to 12 oz. bag of semi-sweet chocolate chips
½ teaspoon pumpkin pie spice
1 cup toasted pumpkin seeds, also known as pepitas
1 cup dried cranberries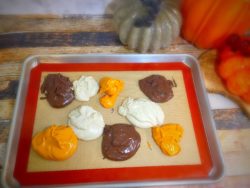 Note: the microwave is your friend with this recipe, no need for several pots of simmering double boilers on the stove.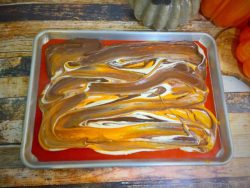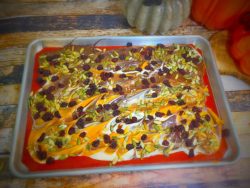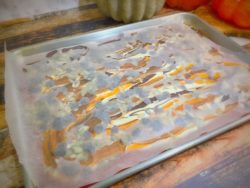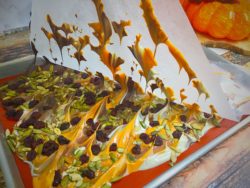 Directions
Line a baking sheet with a silicone mat or spray the sheet pan with a nonstick spray and lay out a piece of parchment paper big enough to go over the edges
In 3 separate microwave safe bowls pour each flavor of chips into its own bowl and set aside
Start with one flavor of chocolate in the microwave on high for 1 minute intervals, stirring after 1 minute and microwave again until it is all melted with no lumps, (for approximately 2 ½ to 3 minutes)
Stir in the pumpkin pie spice into the melted white chocolate until well blended.
Pour the chocolate into round mounds onto the prepared baking sheet, alternating colors and with a rubber spatula, swirl all colors around on the baking sheet, careful to blend the colors too much, you still want to be able to see the different colors.
Sprinkle the dried cherries and pumpkin seeds all over the top.
Take a piece of waxed paper or parchment and lay on top and gently press all over just slightly so the seeds and fruit are pressed into the chocolate so it will adhere to it.
Place in the refrigerator to chill for about an hour and half, break apart into desired sizes and put into airtight container, gift tin or gift bags. I found out that this one recipe will make enough for 5 gift bags. Enjoy!