Do you crave fried chicken from time to time? Then, I have the easiest oven fried picnic chicken recipe for you to make during the summer months. In the event of a picnic or summer gathering, I think of this chicken. What makes this is oven fried chicken so great is there is no need for the mess and time it takes to deep fry. Proving that the oven fried method results in chicken that is crispy, juicy and so flavorful. After the first bite of this succulent chicken I couldn't help but not think of joyful family memories of picnics when I was a kid, especially 4th of July celebrations.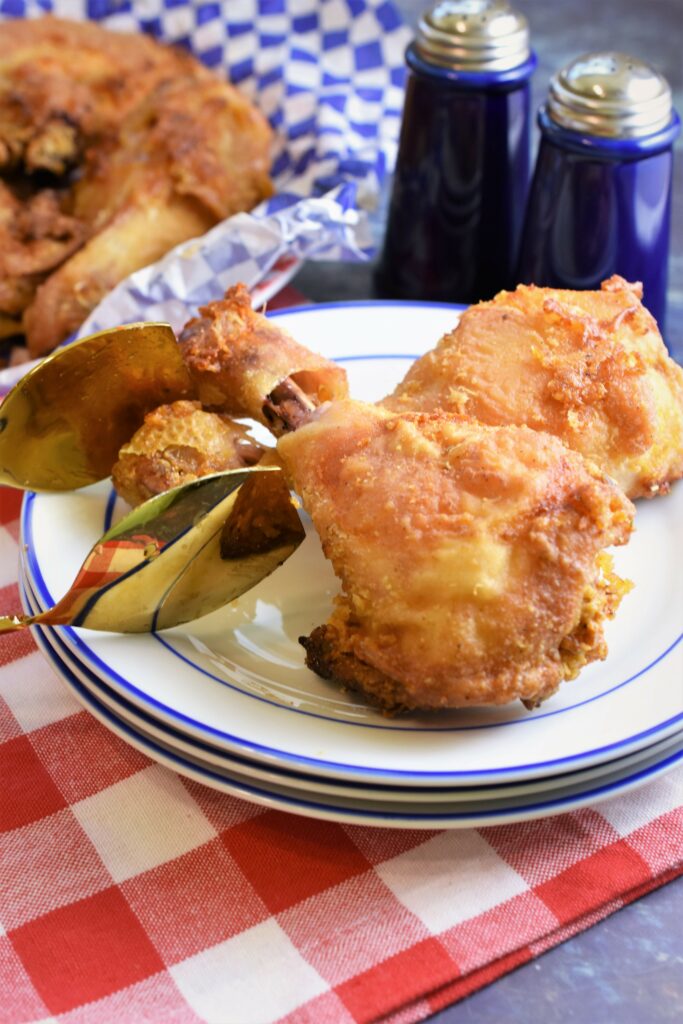 Chicken Brings People Together
Everyone comes together for summer Pot luck celebrations, family reunions and pool parties and there's usually a platter of fried chicken to comfort those hungry souls. In fact, I still dream about my sister in law Colleen's fried chicken. I always look forward to it and she serves from time to time at parties. To emphasize you can smell the intoxicating aroma at her front door before entering. For this reason I always bring my famous Smoked Gouda & Bacon Macaroni and Cheese to ensure that she makes plenty of chicken. Full-fill that hunger with this recipe for oven fried picnic chicken. Tastes just as good as deep fried with minimal mess…Winner, winner chicken dinner!
I can't tell you enough about how fabulous this oven fried picnic chicken is. In fact craving good food at different times of days because you're hungry or many times because of an emotion could get you drooling. How many times have you seen a commercial on t.v. for fried chicken and became hypnotized. The most compelling evidence is eating at midnight with your face in the fridge. Furthermore there is something hedonistic about eating this oven fried picnic chicken over the kitchen sink with juices running down my chin…true story!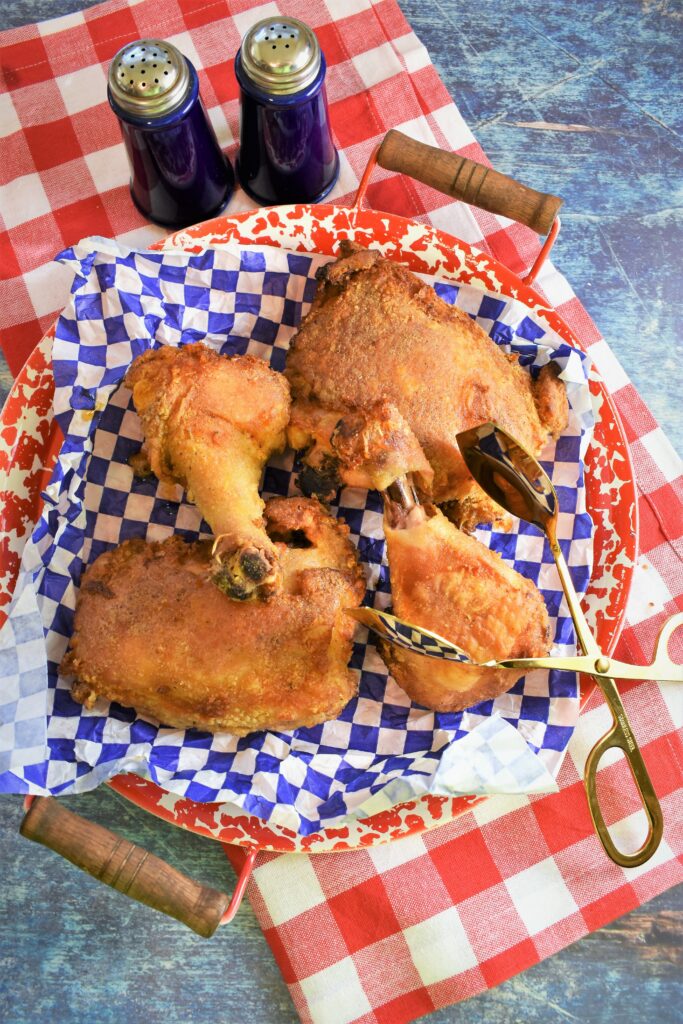 This oven fried picnic chicken is fabulous served warm but yummy cold at a picnic as well, a crowd pleaser for sure.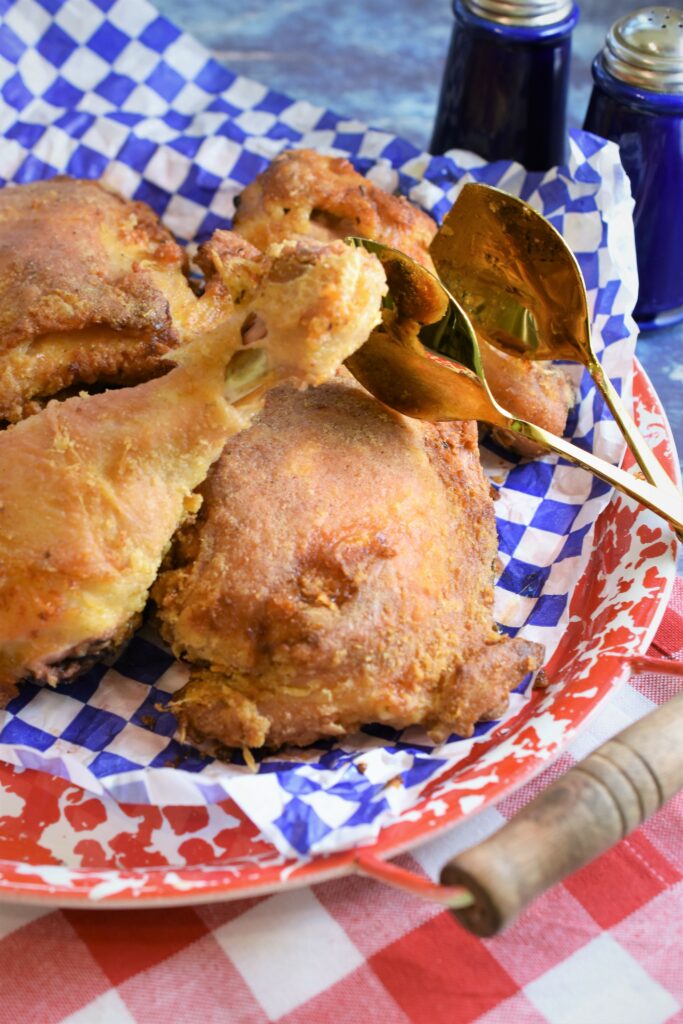 Looking for More Ideas to go with this Oven Fried Chicken?
Indian Spiced Potato Wedges with Curried Aioli
Vegan Chipotle Butternut Squash Cornbread with Maple Butter
Watermelon Salad with Feta, Pistachios & Honey Jalapeno Vinaigrette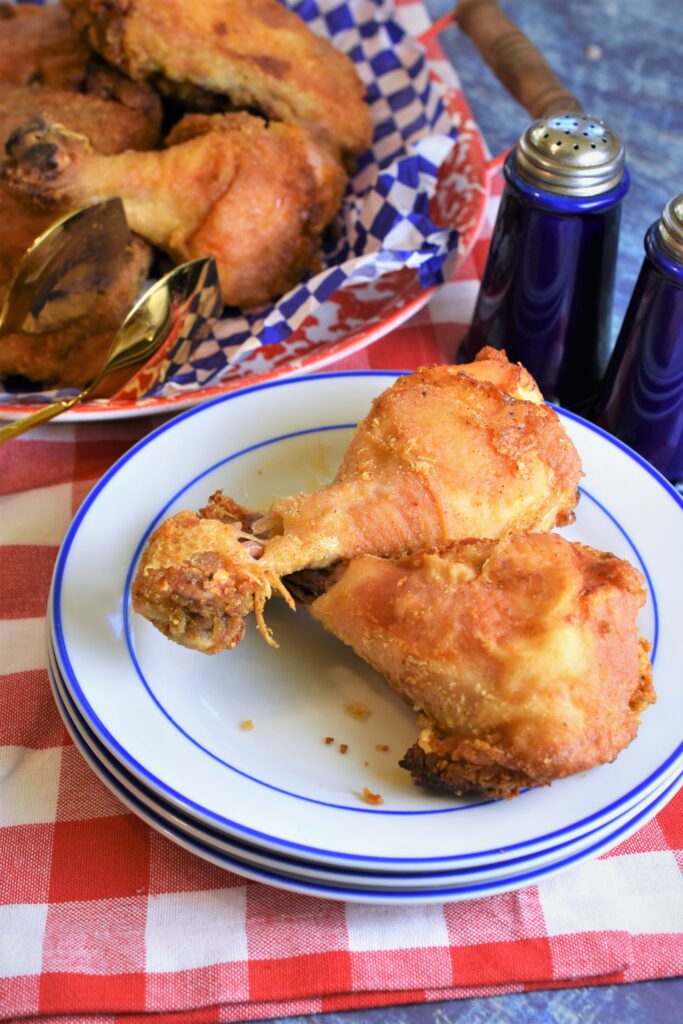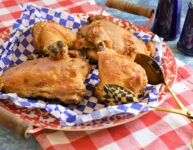 Oven Fried Picnic Chicken
Oven fried chicken just as good as deep fried, crispy and juicy and perfect for leftovers or picnics
Ingredients
1/3

cup

vegetable oil

1/2

cup

all-purpose flour

1/4

cup

corn starch

1/4

cup

corn meal

1

tsp

kosher salt

1

tsp

smoked paprika

1/2

tsp

pepper

1/2

tsp

cayenne pepper

1/2

tsp

dry mustard

2

tsp

Italian seasoning

1

tsp

powdered ginger

1

whole chicken, cut up, up to 5 lbs, I used legs & thighs
Instructions
Preheat oven to 425 degrees

Pour the vegetable oil onto an 11X18 inch sheet pan making sure to coat the entire pan

In a medium bowl combine all the ingredients except for the oil and toss a couple of chicken pieces at a time making sure to coat all sides well and getting into all the nooks and crannies including under any loose skin and place each piece on the sheet pan and making sure that each piece does not touch

Place the sheet pan of chicken uncovered into the preheated oven for 30 minutes, turn chicken over and continue baking for another 20 minutes or until juices run clear when thickest pieces are cut to the bone and internal temperature should be at least 165, mine came out perfect with the total of 50 minutes.

Take out of oven and put the chicken on a paper towel lined sheet pan to collect any grease and serve immediately or serve cold the next day at a picnic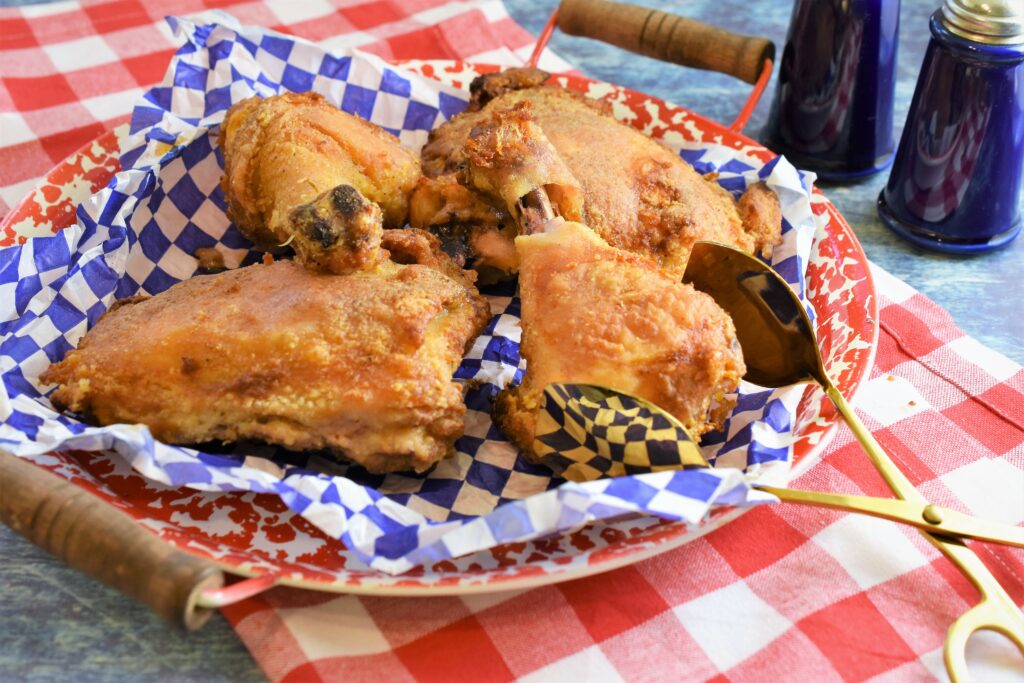 Picnic Ideas To Pack in Your Baskets for Summertime!
75 Summer Recipes to Pack in Your Picnic Basket
Country Living Magazine has 94 Delightful Picnic Food Ideas to Make All Summer Long…. take a look
52 Fun Picnic Food Ideas That Are so Good You'll Never Eat Inside Again