The other day I was craving something healthy for dinner so making this curried cauliflower & apple soup fulfilled that need. In fact this simple and low fat dish takes moments to prepare and about 20 to 30 minutes to cook. Furthermore, the deep, rich flavors come together from every ingredient. Because the apples add a touch of sweetness to counteract the deep rich spice of the curry. Additionally no cream needed in this luscious vegan soup. Given that all the creamy richness comes together from puréeing all the ingredients; the potatoes help with the velvety texture. Concluding that this curried cauliflower & apple soup is so much more than a plate of steamed cauliflower.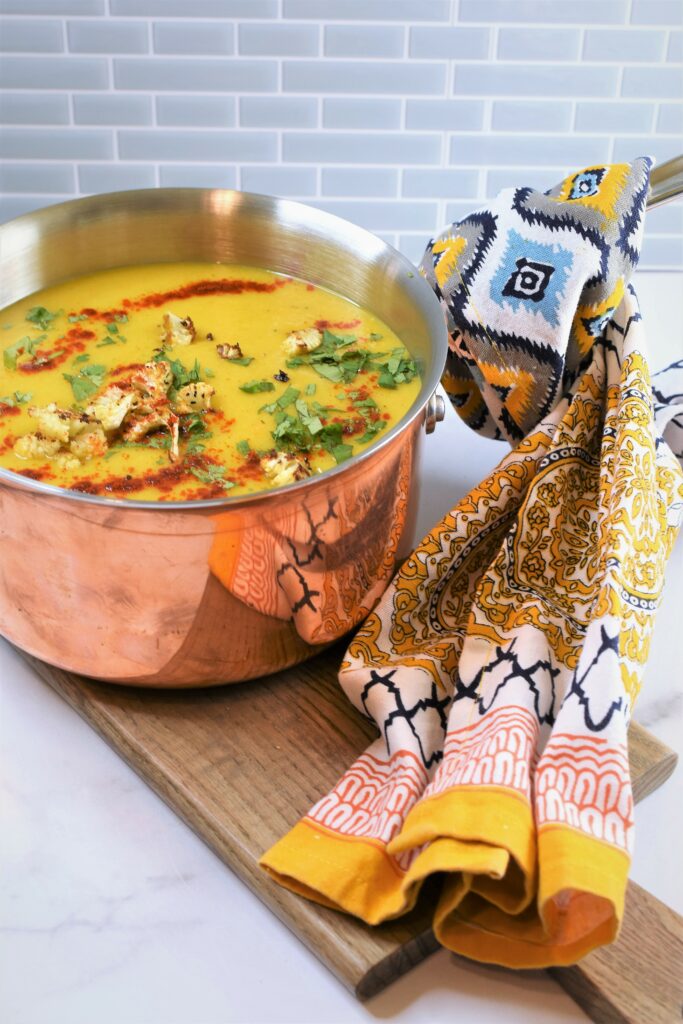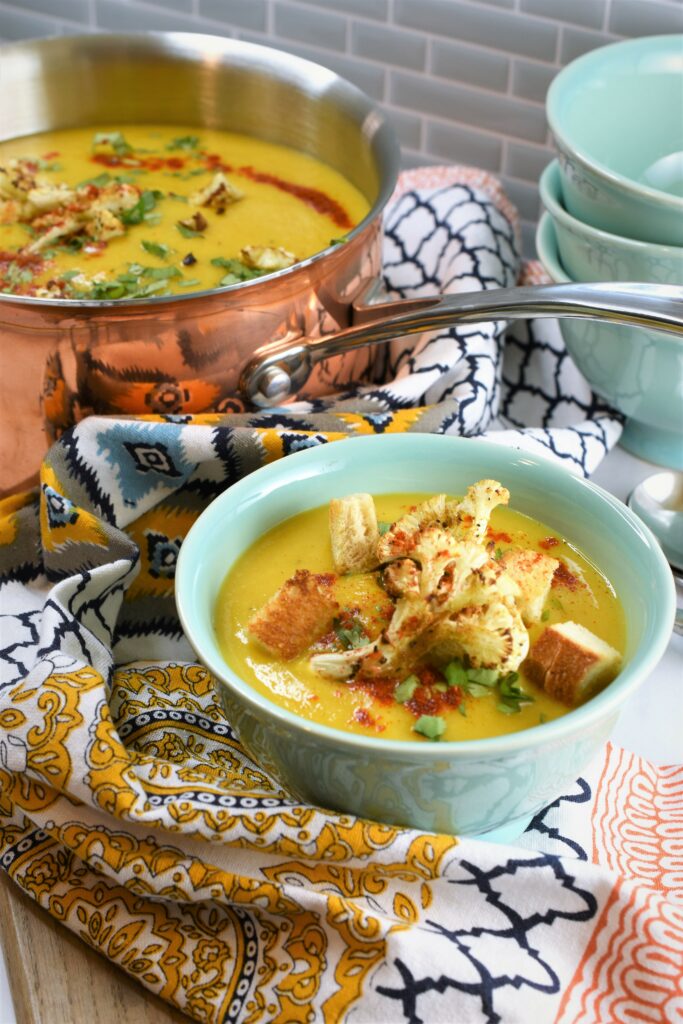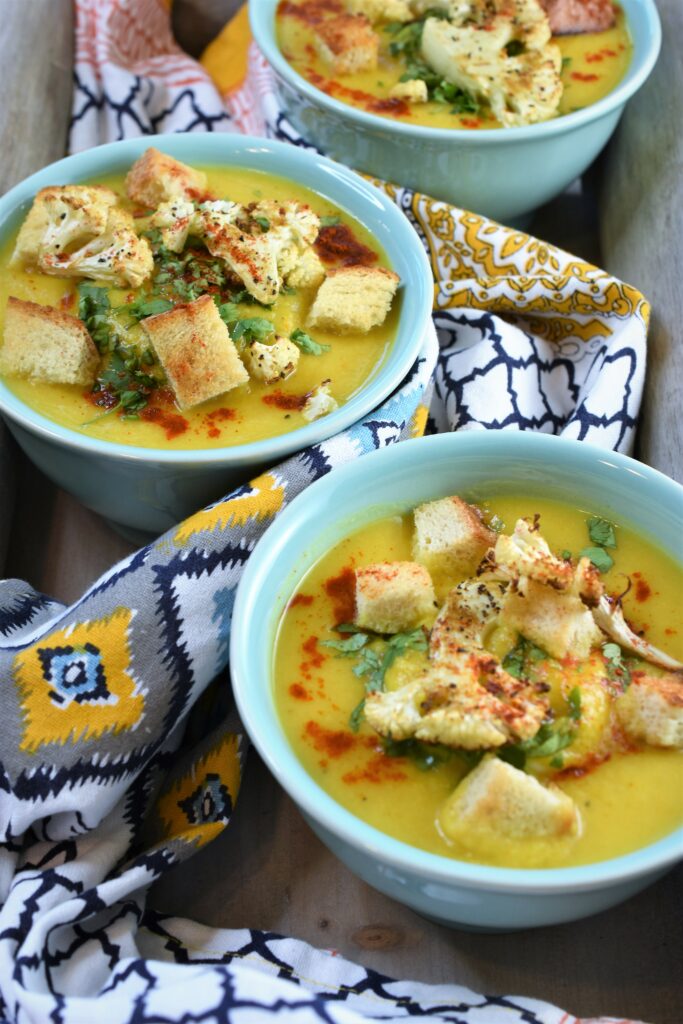 More Scrumptious Soup Recipes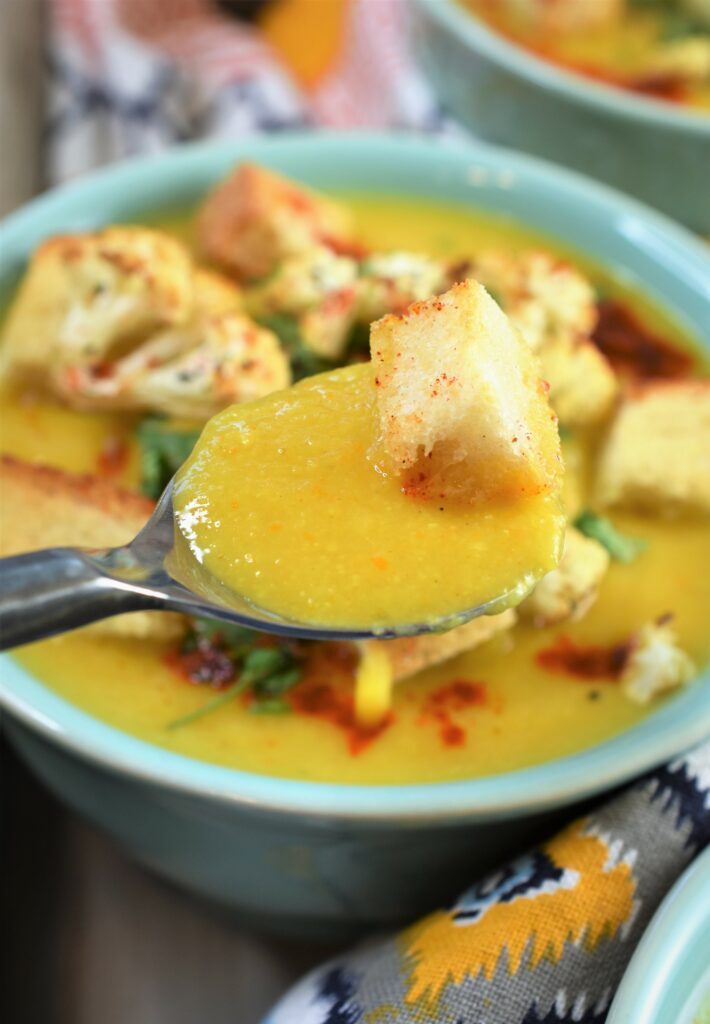 Serving This Curried Cauliflower & Apple Soup
Try serving this soup cold, it's just as good and a chilling treat on a hot day, swirl in some yogurt and top with chopped cucumber and you're ready to go for captivating leftovers
I tried a couple of spoonfuls in my scrambled eggs for breakfast and it was truly out of this world
Put that BBQ grill to work and spoon this as a sauce over grilled vegetables, chicken or Pork
Serve it buffet style with bowls of different garnishes, elevating it to higher levels of scrumptiousness, like roasted cauliflower florets with cumin, toasted sunflower seeds or crushed cashews, Greek yogurt or vegan yogurt, fresh items like cilantro, jalapenos, Thai basil, bean sprouts, lime wedges and chopped tomatoes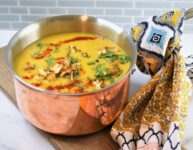 Curried Cauliflower & Apple Soup
This creamy vegan soup has a curried richness with a hint of sweetness to counteract the spiciness
Ingredients
2

tbsp

canola oil

1

medium yellow onion, chopped

2

celery ribs, chopped

1

cup

carrots, chopped

2

tsp

chopped garlic

1/2

tsp

kosher salt

1/2

tsp

coarsely ground pepper

4

cups

water

4

cups

vegetable broth

2

apples, peeled, cored and chopped, I used my favorite Honey Crisp

2

medium Idaho potatoes, peeled and chopped

6

cups

cauliflower, about 1 1/2 medium heads

1/2

tsp

turmeric

1 1/2

tbsp

curry powder

1/4

tsp

cayenne pepper (I used 1/2 tsp to give it a kick)

1

tsp

coriander

1/4

tsp

powdered ginger

2

tbsp

nutritional yeast (this is optional, I just like the flavor in so many foods)
Instructions
Over medium/high heat add the oil to a heavy bottomed 6 quart pot

Add the onion, celery, carrots, garlic, pepper and salt. Saute for 7 minutes, stirring occasionally

Stir in the water and vegetable broth and turn up heat to high

Add the apples, potatoes, cauliflower and the rest of the ingredients, stir well

Bring to a boil and turn down to medium, cover and cook for 20 to 30 minutes or until vegetables are really soft when pierced with a knife

Turn off heat and with a hand held immersion blender (my preferred method) puree soup until smooth and creamy, taste and adjust salt if needed, I found that the consistency was perfect but if you want a thinner soup, add a bit more water or vegetable broth.

Ladle into bowls and serve. Makes 12 cups

Suggested garnish: I roasted some cauliflower slices with some cumin and black pepper along with fresh cilantro and smoked paprika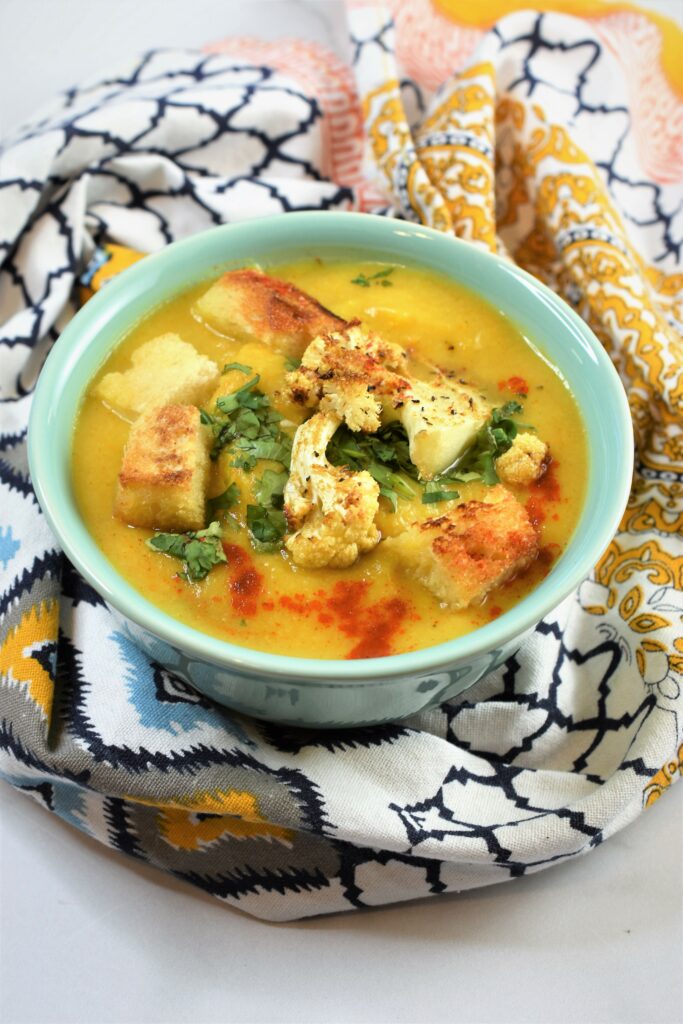 Recipe Notes and Facts
I use Nutritional Yeast in a lot of my foods including today's recipe for curried cauliflower & apple soup for the nutty/cheesy flavor it gives but why is nutritional yeast good for you?
Everything you need to know about Cauliflower
My friend Lori over at Recipe Girl has a fabulous recipe for Cauliflower Tortillas…YUM