I'm sure many of you have had "pigs in a blanket" at parties, they are popular because they are really good, sometimes hot dogs and canned dough is used, not my cup of tea but this sausage in puff pastry is and is a step up from the old standby.  My recipe for these sausage pastry puffs could not be any easier.  Most recipes use the mini sausages and you have to wrap each one with a tiny piece of dough, my recipe uses a full size sausage, much easier.  The variety of sausages out there in the market are endless, so choose whatever type you want, from pork, beef and vegetarian.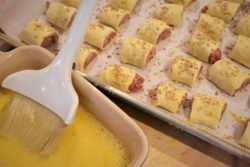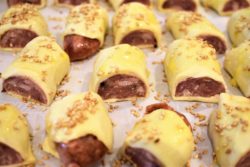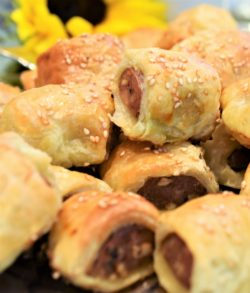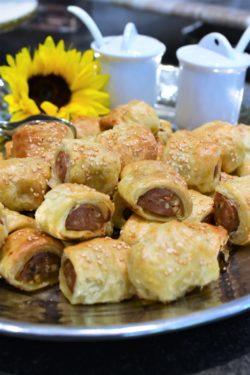 Sausage Pastry Puffs
Savory sausage wrapped in puff pastry and baked to a flaky goodness is definitely a Recipe for a Party!
Ingredients
1

package of puff pastry, thawed

2 sheets total

6

chicken apple sausages or sausage of your choice

full sized sausages, cut in halve lenghwise

1

egg, scrambled

2

tbsp

toasted sesame seeds

1/2

cup

honey mustard or mustard of your choice

for dipping

1/2

cup

BBQ sauce

for dipping
Instructions
Preheat oven to 400 degrees F

Unfold the puff pastry and cut along the folded seams, you will have 6 pieces cut out of each sheet of pastry

Place a sausage halve onto a cut piece of pastry seem side up and fold the pastry over the sausage onto the flat side and press and pinch the dough to ensure a good seal, it's okay if the pastry may or may not be long enough to cover the whole sausage and part of it sticks out. Repeat with all the remaining sausages and pastry dough.

Cut each sausage into three pieces and place onto a parchment or silicone lined sheet pan, brush each one with egg and sprinkle with sesame seeds.

Bake in the oven for approximately 15 to 20 minutes until golden brown

Serve immediately with honey mustard and or BBQ sauce for dipping. Makes 36 small appetizer bites, enough for 8 to 12