Have you ever savored a warm cup of Mexican hot chocolate?  It's warm & creamy with some unexpected spices that aren't in a regular cup of hot chocolate.  The hint of spiciness along with cinnamon and nutmeg make for an addicting cure for a cool day, that's for sure.  Now you can have this delicious flavor in a cool and creamy mini pie, what? Pie you say…Yes, these Mexican hot chocolate pies combine all the flavors of the classic mug of hot chocolate into a pie and it's wonderful.  The perfect bite to have along with your cup of hot chocolate or coffee and these are perfect to punch up your taste buds at any tea party.  The ladies will be lifting one eyebrow with judgement until they taste them and then they will be sneaking them home in their handbags, just watch.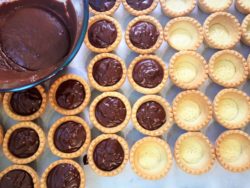 Oh these look great, I can't wait to take a bite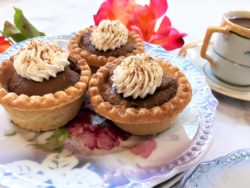 Perfect for any occasion especially a tea party, or should I say…a Chocolate party!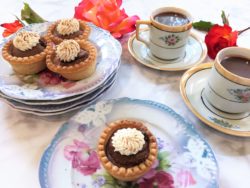 Ingredients
1/4 cup granulated sugar
1 cup whole milk
1/2 cup heavy cream
2 egg yolks, beaten
Pinch of salt
2 tablespoons Dutch-process cocoa powder
1 ½ tablespoons cornstarch, sifted
1/4 teaspoon kosher salt
1/2 cup of bitter sweet chocolate chips
1 teaspoon pure vanilla extract
¼ teaspoon Nutmeg
½ teaspoon Cinnamon
¼ teaspoon chili powder
¼ teaspoon Cayenne pepper
½ teaspoon instant espresso powder
25-2 inch diameter pre-made mini shortbread tart shells
additional whipped cream  to serve on top of the tarts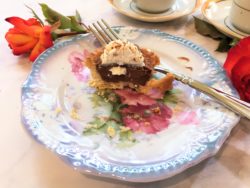 Directions
Beat the sugar and egg yolks and set aside
in another bowl, combine the salt, cocoa powder and cornstarch in a medium mixing bowl with a whisk and set aside
In a medium saucepan over medium heat, add the heavy cream and milk and warm until starting to steam but not boiling, stirring occasionally
Stir in the chocolate chips, vanilla, nutmeg, cinnamon, chili powder, cayenne pepper and espresso powder, stirring occasionally until the chocolate chips are melted and well combined
Add the cornstarch/cocoa powder mixture and whisk until well combined
add 1 ladle of the warmed chocolate mixture in the bowl of the egg yolk/sugar mixture and whisk vigorously until well mixed through and slowly pour into the rest of the chocolate mixture and whisk and cook until well thickened, it should coat the back of a spoon without slipping off, take off heat
divide mixture into the tart shells on a sheet pan, cover with plastic wrap and chill in the refrigerator until set, at least 2 hours
Add a dollop of whipped cream and a sprinkling of cocoa powder if desired and serve.