Do you have a box of cornbread mix in your pantry calling your name to make something besides cornbread? Then you can make these jalapeno cheddar cornbread BLT waffles in a "Jiffy". With this in mind I could have made a typical bacon, lettuce and tomato sandwich but why? I want my taste buds to have a summer vacation from the ordinary. Plus I had a ton of garden fresh tomatoes and jalapenos to use up. To emphasize freshness make these waffles using seasonal produce to give what you are making the freshest flavor. Moreover cooking with summer fresh corn and jalapenos in this recipe brings out the flavor in this tasty sandwich recipe. In addition the honey Dijon mayo gives this recipe a nice sweet tang. Plus it's a great contrast against the smoky bacon and the spicy jalapenos.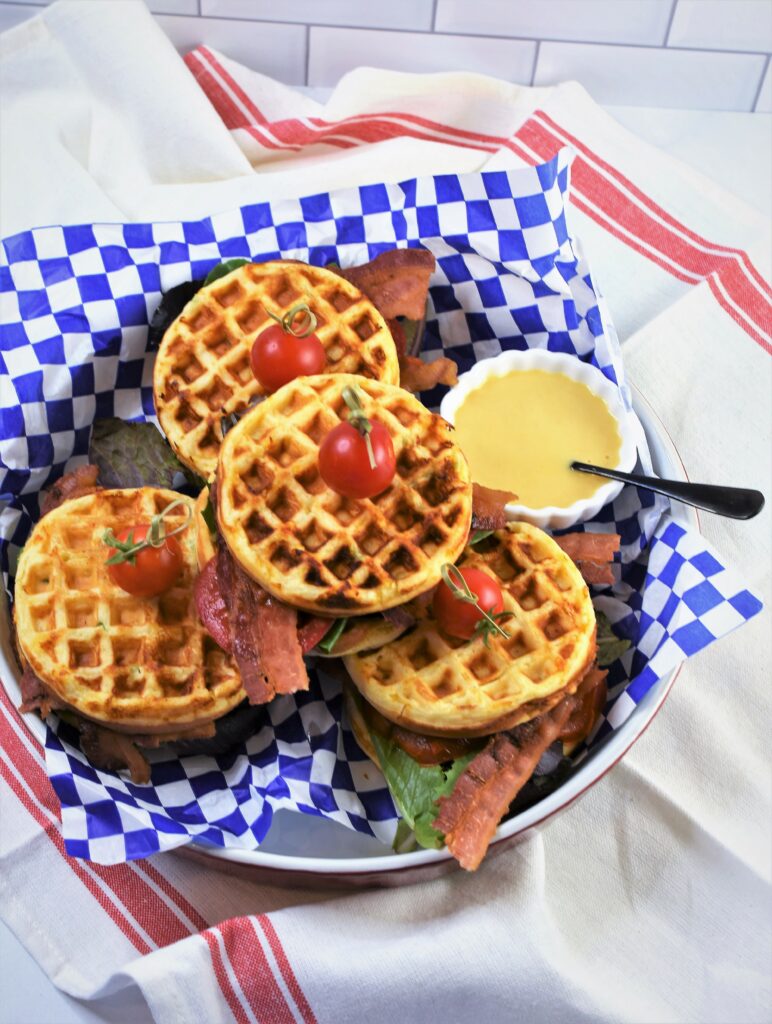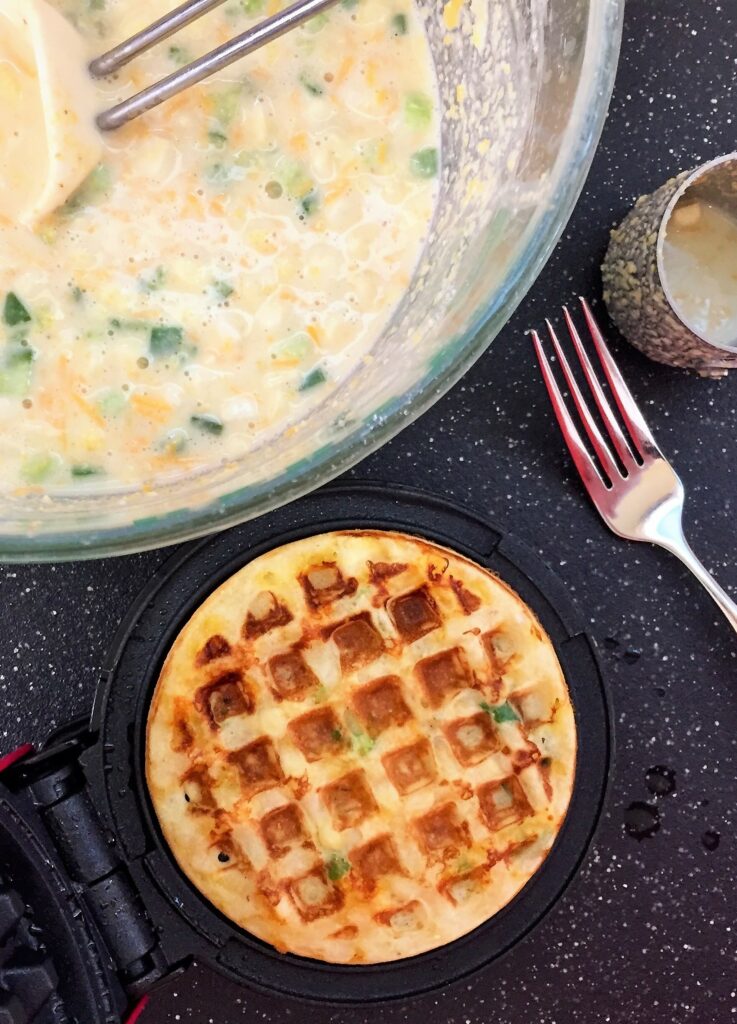 Tips for making these Jalapeno Cheddar Cornbread BLT Waffles
I used a mini waffle iron by Dash and it made 3 ½ inch waffles with this recipe I was able to get 12, enough for 6 small BLT's. Because any size waffle maker will do, just pour 1/4 cup of batter as I did with my waffle maker If your maker is bigger you will still have a small waffle but just not one with a defined edge but that will still look great.
As you make them, keep them warm by placing them directly on a cooling rack on top of a cookie sheet. Place them in a 200 F preheated oven letting air circulate around them keeping them crisp.
Have leftovers? I'm sure you won't but if you do, heat them up in the oven on a parchment lined sheet pan @ 350 F preheated oven for 10 to 15 minutes. Because by placing them directly on a cooling rack on top of a cookie sheet this lets air circulate around them crisping them up.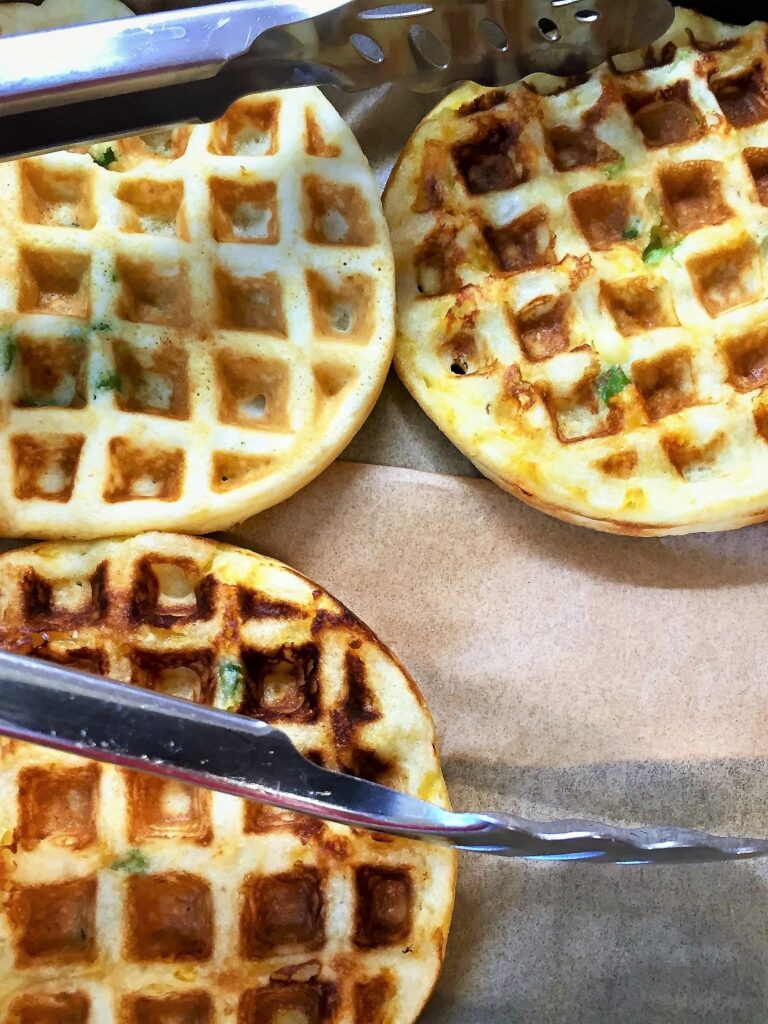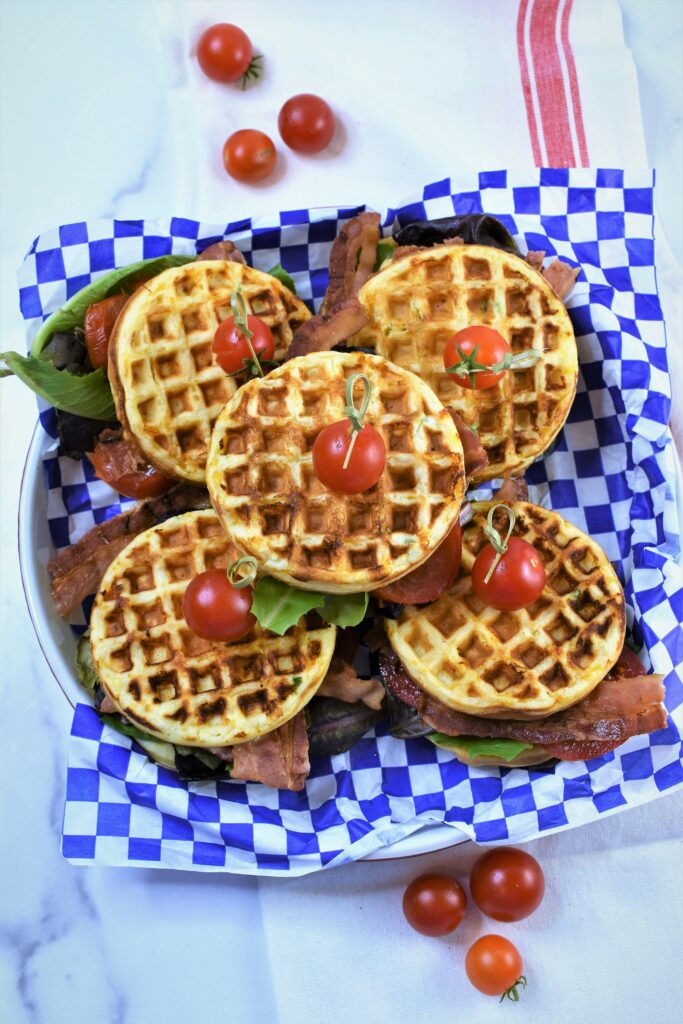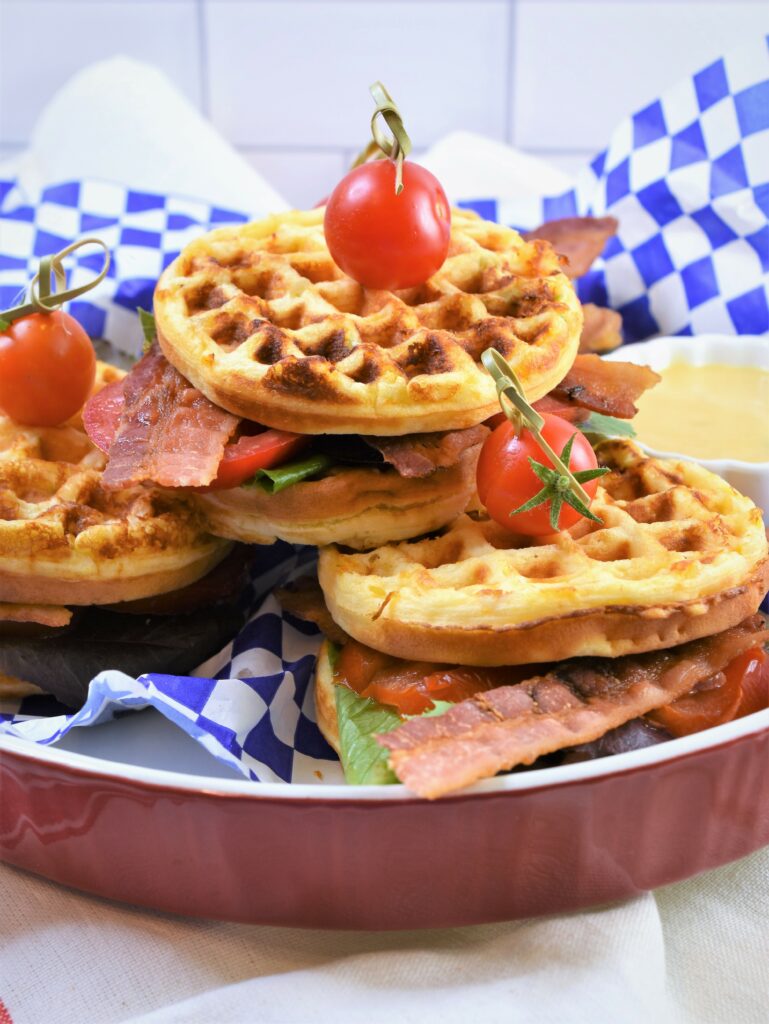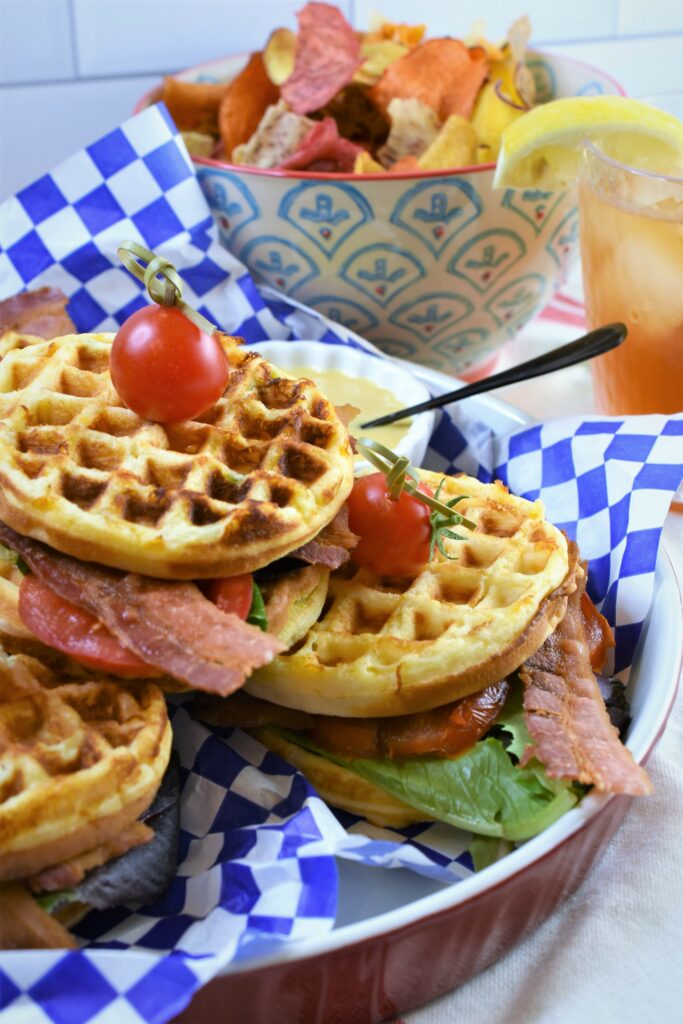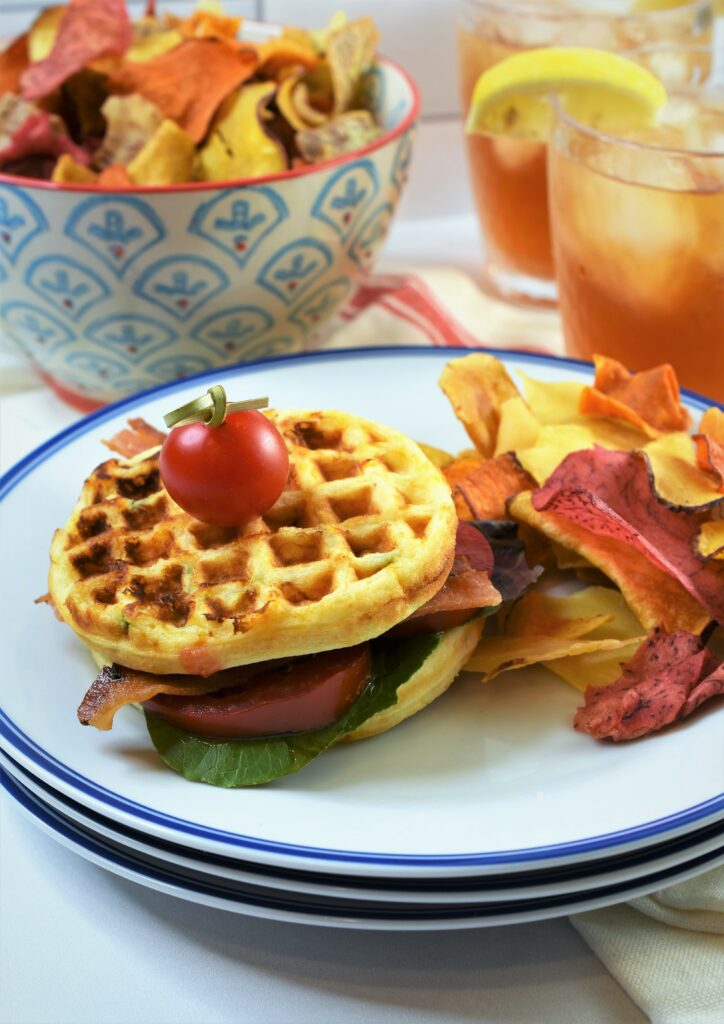 Fun Ways To Serve these
Make a scrumptious breakfast sandwich by adding a fried egg inside or on top
Serve them for breakfast without the sandwich part and spread some butter on them and maple syrup for that awesome country kitchen flavor.
Make this waffle sandwich vegetarian by omitting the bacon and adding avocado
Use the waffles as a base for eggs Benedict and chop up the bacon and put it in the batter.
For an over the top Benedict serve a crab cake on top instead of ham!
Don't be limited by the ingredients, add avocado and turkey for an ultimate BLT waffle club…it's diner food on steroids here
If you don't have a small waffle maker, use a regular sized one and cut the waffle sandwiches to fit your needs
This makes a great brunch, lunch or dinner entrée
Get the grill out and serve some sliced steak on this for the ultimate cook out feast and a glass of chilled Rose couldn't be better with it
Don't forget the kids, if the jalapeños are too hot for them, leave them out plus you could use one of many cute character themed waffle makers that are out on the market like Mickey Mouse or I've even seen Star Wars ones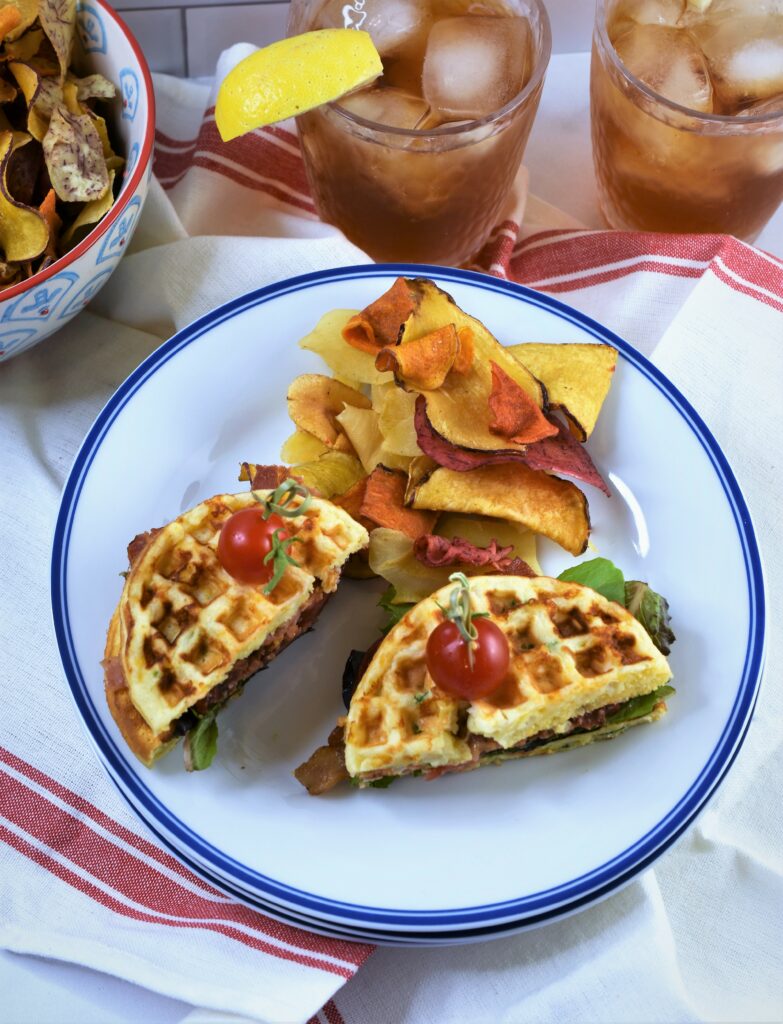 More exciting sandwiches to get your groove on!
Fire up your grills and try my recipe for this Grilled Eggplant Panini with Basil Aioli. Additionally this was one of my first recipes that I won with Taste of Home Magazine recipe contests!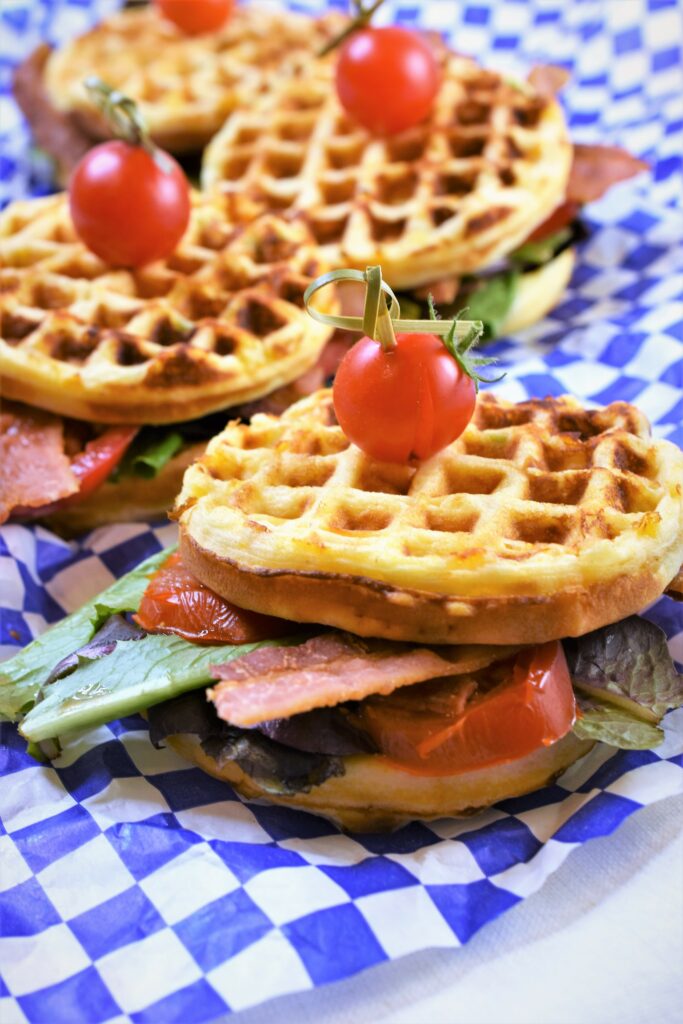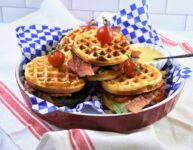 Jalapeno Cheddar Cornbread BLT Waffles
These savory waffle BLT sandwiches are perfect for brunch and even better for lunch or dinner and incorporating fresh corn and jalapenos you can't go wrong with this
Ingredients
2 1/4

cups

cornbread mix, I used Jiffy brand

1 1/4

cup

milk or buttermilk

2

eggs

2

jalapenos, diced, seeded and membrane removed if too spicy to leave that in

1/2

cup

sharp cheddar cheese, shredded

1

cup

corn (preferably fresh off the Cobb)

12

slices of bacon, cooked crisp

3

medium sized tomatoes, sliced
Honey Dijon Mayo
2

tbsp

honey

2

tbsp

Dijon mustard

1/4

cup

mayonnaise
Instructions
Preheat waffle maker and preheat oven to 200 F

In a mixing bowl mix together the cornbread mix, milk, eggs, jalapenos, cheddar cheese and corn together

Spray the preheated waffle maker with nonstick cooking spray and pour 1/4 cup of batter (this was the measurement in my mini Dash waffle maker) or follow the directions of your waffle maker as to how much batter to use to make a waffle and how long to cook them. If you want to make "mini" waffles like the size I came out with, just use 1/4 cup batter in your maker, it may not have a defined edge but that would still work and look cool

After a few minutes check to see if they are golden and crisp otherwise close the waffle maker again and wait to see when they are crisp to your desired doneness

Place them on a cooling rack on top of a cookie sheet as you make them, uncovered in the oven to keep them all crisp until ready to make the BLT's.

In a small bowl whisk together the honey, Dijon mustard and mayonnaise and spread a small amount onto two waffles and layer some sliced tomatoes, lettuce and bacon and stack the second waffle on top so you have a sandwich, repeat with the rest of the waffles.

Suggested garnish of mini pickles or cherry tomatoes on a pick for that sophisticated restaurant look.

This recipe makes 12 mini 3 1/2 inch waffles